Combating Race Discrimination in the Secret Service
In its longest-running case, Relman Colfax successfully represented a class of African-American Special Agents of the U.S. Secret Service who had been subjected to a racially discriminatory promotion system that denied them a fair opportunity for promotion. Filed in 2000 on behalf of more than 100 current and former Secret Service Agents, Moore v. Secretary of the Department of Homeland Security culminated in a historic 2017 settlement requiring the Secret Service to make significant changes to its promotion system to ensure greater equity, transparency, and accountability and providing $24 million in compensation to the Agents who had been discriminated against by the Service. This case demonstrated that no entity is above the law and all agencies can be held accountable for discrimination.
Background: Entrenched Racial Discrimination in the Secret Service
The Secret Service has a long history of racial discrimination. Although its Agents dedicate their lives to protecting the President, Vice President, presidential candidates and foreign dignitaries, African-American Special Agents faced a race-based glass ceiling for many years. Instead of promoting Special Agents based on qualifications or merit, the Secret Service relied on a "good ol' boy" network favoring white Agents, condoning racial favoritism, and tolerating overtly racist acts by Agents and supervisors.
Special Agent Reginald "Ray" Moore, the lead plaintiff in the case, had served in the Presidential Protective Division ("PPD") for approximately five years, held the highest GS-13 position on the President's detail, received a perfect promotion evaluation score from his supervisors, and held the highest overall promotion score of any African-American GS-13 Special Agent. He had served as the Acting Supervisor for the entire White House complex, but when it came time to permanently fill that position, it went to a white Agent with less experience who had never before served in the Presidential Protective Division. Moore was required to train the white Agent before he was transferred without promotion.
Moore's experience was hardly unique. During the discovery phase of the case, Relman Colfax lawyers uncovered powerful evidence of systemic racial discrimination in promotions. African-American Special Agents were systematically blocked from advancing to the supervisory GS-14 and GS-15 ranks. African-American Agents were denied promotions to roles they had already held in Acting status, forced to train white Agents who were then selected over them, and denied promotions based on "requirements" not applied to white Agents. Plaintiffs amassed extensive statistical evidence of race discrimination in the promotion process and presented more than 60 declarations from African-American Special Agents who recounted personal experiences of race discrimination by the Secret Service.
Evidence obtained in the lawsuit also revealed that racial discrimination in the Secret Service was pervasive and reflected a culture and history of racial bias. Supervisors were heard using the n-word and circulated e-mails depicting cross-burnings, lynchings, and other racist symbols. One Agent received an epithet-laden phone message threatening his life unless he left the field office he had just joined. Others saw the n-word and a swastika painted on the wall of another field office. In 2008, a noose was found hanging in a secure building at the Service's James J. Rowley Training Center in Beltsville, Maryland. That same month, as part of the discovery process, the Secret Service produced a series of racist emails that were sent to and from Secret Service e-mail accounts the prior few years that involved at least 20 current or former Secret Service supervisors. Also during discovery, the firm uncovered evidence that dozens of white Agents, including a high-level supervisor, attended a notorious event known as the "Good Ol' Boy Roundup" – a gathering of law enforcement agents that featured a "Nigger Check Point" and a skit involving the KKK. Ten of the white Agents who attended the event were subsequently promoted.
Key Case Developments
The litigation began shortly after the firm opened its doors in 2000. For 16 years and through three administrations, Relman Colfax fought in both trial and appellate courts to win relief for members of the class.
Exposing Injustice Through Discovery
Time and again, the firm defeated efforts by the Secret Service to hide its reprehensible behavior from public disclosure. On four separate occasions, the District Court sanctioned the Secret Service for discovery misconduct designed to cover up its violations of anti-discrimination law. The Court also rejected the Secret Service's repeated attempts to exclude plaintiffs' statistical evidence of race discrimination.
After a 16-day evidentiary hearing during which it was revealed that the Secret Service failed to search for and produce key evidence, and even admitted to burning documents, Magistrate Judge Deborah Robinson announced that the Secret Service had "made a mockery" of federal discovery rules, court orders, and the evidentiary hearing. Magistrate Judge Robinson sanctioned the Secret Service for its willful noncompliance, calling the Agency's "recalcitrance" in producing evidence "the most prominent feature of the record in this action."
Subsequently, U.S. District Judge Richard Roberts upheld the evidentiary sanction imposed by Magistrate Judge Robinson. In upholding that sanction, Judge Roberts noted that the Magistrate Judge had found the Secret Service's "behavior regarding discovery obligations consistently over time to range from being lackluster to being recalcitrant and obdurate" and recounted that "the magistrate judge has had to enter against the defendant no fewer than nine orders compelling the defendant to provide discovery" before concluding that the Magistrate Judge's conclusion that "enough is enough" was justified.
Ensuring Class-Wide Relief for the Secret Service's Discrimination
On February 25, 2013, Judge Roberts granted plaintiffs' motion for class certification. The class included: "all current and former African-American Special Agents who bid for promotion to a GS-14 position from 1995-2004 and were not promoted to GS-14 on the first bid list on which they bid; all current and former African-American Special Agents who bid for promotion to a GS-15 position from 1995-2005 and were not promoted to GS-15 on the first bid list on which they bid; but excluding Special Agents who served as an Assistant Director, a Deputy Director, or the Director of the Secret Service during the class period."
On August 1, 2014, a three-judge panel of the U.S. Court of Appeals for the District of Columbia Circuit unanimously affirmed the district court's class certification order, holding that plaintiffs' claims could proceed as a class action.
Historic Class-Wide Settlement Reached in 2017
On January 17, 2017, the firm announced a historic settlement in the case. Under its terms, the Secret Service must engage an independent expert to develop a set of standardized, job-related evaluation criteria to be used in recommending and selecting Special Agents for promotion. Multiple candidates are to be considered for each position, and the reasons for each promotion decision must identify the specific criteria considered. Statistical testing will be conducted on the new promotion system to ensure reliability and to identify and address any adverse impact on minority candidates. The Service is also required to establish a hotline for reporting racial incidents, track discrimination complaints, and provide for discipline for biased conduct or failure to report such conduct.
In addition to these vastly improved employment practices, the Secret Service agreed to a $24 million settlement to compensate the Agents who were members of the plaintiff class for the discrimination they had suffered. Individual class member payments averaged more than $100,000, with several receiving more than $200,000. That level of recovery per class member was both justified and rare—if not unheard of—in settlements for federal employees.
Impact: Accountability for Government Agencies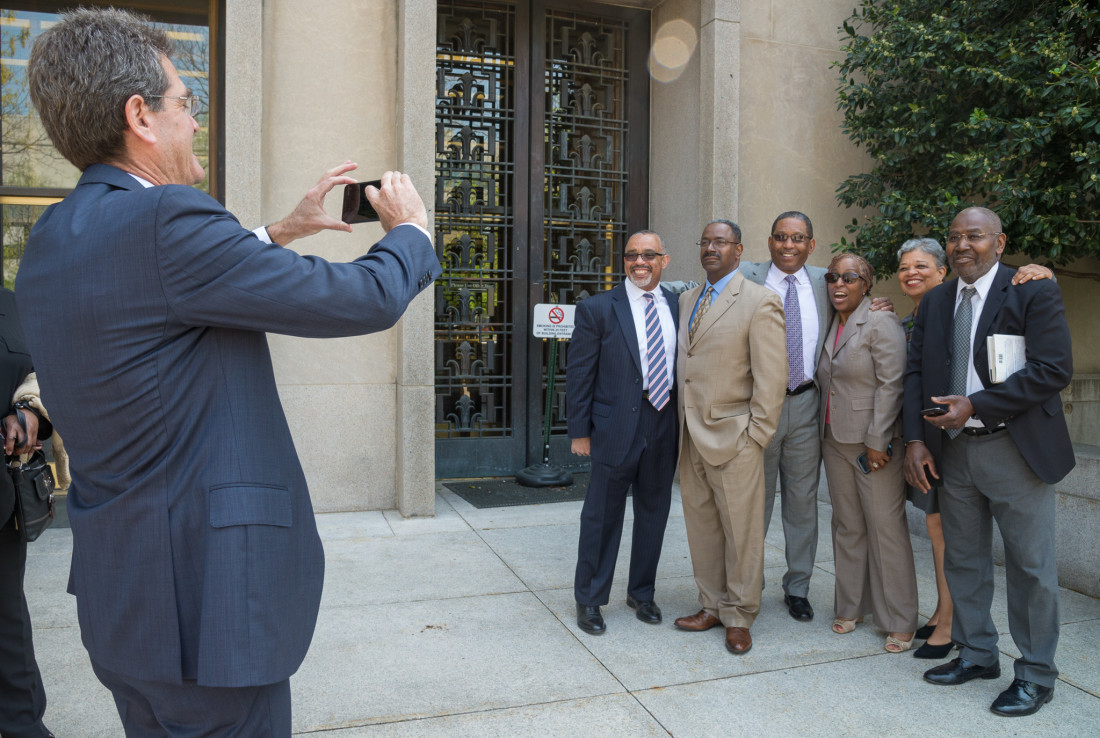 The firm's hard-fought victory against the Secret Service demonstrates that no entity is above the law; despite its efforts to avoid answering for discrimination, the Agency was held accountable. The resolution of the case had and will continue to have wide-ranging impact, installing a state-of-the-art promotions system at the Secret Service and paving the way for current and future generations of African-American Special Agents to freely advance through the ranks based on their merit and break through the racial glass ceiling, rather than being held back by the color of their skin.
The Case Team
The team from Relman Colfax was led by Jennifer Klar working with John Relman, Megan Cacace, Glenn Schlactus, Reed Colfax, and many others at the firm over the many years of the litigation. Hogan Lovells US, LLP joined as co-counsel in 2005; its team was led by E. Desmond Hogan, with assistance from Cate Stetson, Deborah Boardman, Melissa Henke, Erica Knievel Songer, Kathryn Marshall Ali, and others.
Case Caption
Moore v. Secretary of the Department of Homeland Security, No. 1:00-cv-00953-PLF-DAR (D.D.C.)